This is it. This is where you start to make your positive change. Don't let all of your planning and preparation go to waste.
Personally, this is the stage I used to struggle with the most. The first three months were always the most difficult. I would find myself becoming tired and demotivated. I often used to slip back into old habits.
That was before I understood my own behaviour and motivation. Now, with these simple psychological techniques, I can ensure I progress to the action stage and beyond.
If you need a recap, click here for an overview of the Stages of Change.
If necessary readjust your preparations
By now you should have your goals, pros and cons list, and have an understanding of your internal motivation, and may have even begun to take action on these plans for positive change.
These preparations and plans are not fixed, however. Don't be afraid to readjust any that you feel may be necessary. These should help build upon your confidence and motivation and not drag you down.
Keep build your self-confidence
Confidence is like building a wall. It is not something that is done overnight. You must lay it, brick by brick.
In this way, take your positive change one step at a time. If your goal is to run a marathon, focus on the next step you need to take to get there, not what you believe your currently capable of.
Every step that you take will lay that extra brick, building your personal wall of self-confidence.
You will get there.
If you find you are struggling with self-confidence, check out this guide to self-talk, a psychological technique that you can use to boost your confidence.
Make the change social
Connecting with others is a sure way to ignite your internal motivation.
Find friends, partners, family members, or groups with a similar aim. Working together towards a similar goal can help you all achieve your positive change.
Take CrossFit, for example. CrossFit, a group based high-intensity activity using many different movement styles, is usually a very social activity, and one that has seen great success in getting people into exercise. Being able to connect, relate, and share experiences with others is a known way of increasing motivation. From a psychological stand point, it is logical to think that this contentedness is one of the reasons for CrossFit's success.
Living in the digital age, it has become easier to find ways to connect with others. If you are finding it difficult to find others with similar interests, social media is a great platform to find groups and people, either virtually or in your local area, who will share the same desire to positively change.
Nurture your positive emotions
We all start with some positive emotions about our desired change, but these can get lost in the storms of challenges and demotivation. How can we expect long term change when we don't feel good about it?
Having a place we can return to and remind ourselves of our positive emotions is a great way to develop and nurture the embers of our positive emotions.
One elegantly simple method to do this is to develop a positive emotion jar.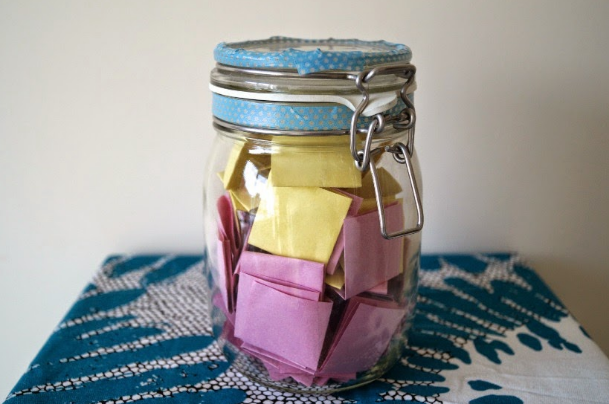 Maybe your feeling energetic after eating healthily for a few days, or maybe you got a sudden rush of excitement at learning something new. Write down any positive emotions you experience related to your change on a piece of paper and place them in a jar or box.
If you are having a particularly difficult time with your positive change, take a few notes out of the jar and remind yourself of these times.
Seeing your notes fill the jar can really help you appreciate all of the good that comes with your positive change.
Taking action
It takes a lot of strength and determination to make it to this Stage of Change and progress towards the action stage.
Make sure to follow to learn how to maintain all of the positive actions you have developed up to this point.
As always, feel free to ask any questions in the comments.
Thanks for reading.